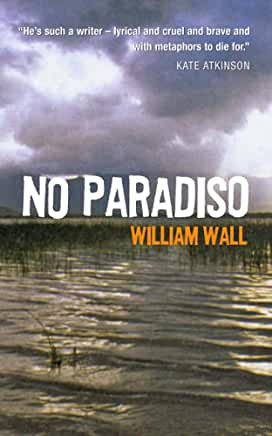 No Paradiso
Short stories
Click on the image to visit the publisher's website or buy the book.
In No Paradiso, Cork-based novelist William Wall's first book of short fiction, every glittering surface appears to conceal foul imagery and death. A description of carefree college years opens the first story, 'In Xanadu', with fitful sleeps and glorious nights and 'ideas that ravished like Cinderellas'. 'In the grey pain of day', however, these ideas 'unaccountably transformed themselves into ugly sisters', and the glorious nights suffer an abrupt end when one of the characters is killed in a car crash. 'The roof came off and it took the top of Nuala's head with it.'
The stories are defined by such moments of unflinching frankness.

Killian Fox in The Guardian
Austere but beautifully written tales of self-destruction, paranoia and death.
Irish novelist Wall (Alice Falling, 2000, etc.) seems most comfortable in the longer story format, where characters can unfold—and relationships can break down—at a leisurely pace. One of the best in the collection is "The Bestiary," a harrowing, Poe-like tale of the growing madness of Tom Ryan, a mild-mannered professor "assailed by the knowledge of his own inadequacy." He becomes obsessed with an earthy, uninhibited student who challenges him in his arcane subject area of gardeners and bestiaries, signs and portents. Literature must be "about something," she claims; "You've lost me," Ryan responds. His behavior grows increasingly aberrant, his lectures increasingly incoherent; Wall saves his climax for the final chilling sentence. Another strong piece, "In Xanadu," focuses on a set of love relationships, brilliantly (and somewhat coldly) dissecting the affinity for both men and women of audacious and unrepressed Nuala, the tale's most memorable character. "Surrender" spotlights Jim Henchion, a tormented translator whose brilliant new rendering of Dante's Inferno seems destined to remain incomplete due to his awareness that "the closer you get [in translation], the more you realize that the gap between you and the work is unbridgeable." Some stories are very short indeed, with little wiggle room for the interplay between characters, and one ("The William Walls") is a bagatelle that traces the histories of some of the author's namesakes. Wall frequently experiments with form, switching narrators several times within a story, for example, to give the reader multiple perspectives on the action. In "Nero Was an Angler," he even allows the narrative to double back on itself so that dialogue from the beginning is repeated toward the end—but in a very different context.
Grim, haunting reading.
Kirkus Review